Teeth whitening can be accomplished a few ways. The simplest involves over the counter whitening products such as whitening strips. These strips however are low in the active whitening ingredients and rely on technique sensitive applications. These strips are also not custom fitted and hence excess whitening product often gets on to the gum and lip tissues causing painful irritation. When patients are unhappy with the results of these over the counter products, they usually consult us regarding the next three options: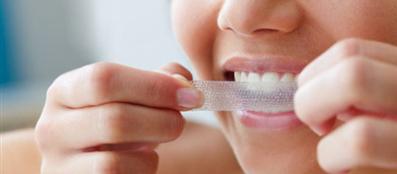 Custom-made take home whitening trays: These trays are exact fitting shells that go over your teeth to ensure accurate placement and containment of the bleaching agent. These can be used for as long as the shape of your teeth do not change (i.e. no crowns or major work has been done to change the shape of the teeth). These trays are easy to make and takes about and hour of chair and lab time with one of our assistants Oona, Diane or Vera. The cost of the whitening trays are usually $300 and comes with a supply of whitening gels to start you off. Refilling the whitening supply is dependent on how fast your teeth stain and how often you need to reapply the gel.
Chair-side whitening with take-home trays: Due to the last minute requirements of many patients (ie. a wedding, birthday or special occasion), sometimes whitening trays are an adjunct to a more rapid way of whitening — and that is the chair-side approach. In this appointment, we
will isolate the teeth and apply a special, highly formulated whitening agent in short, repeating intervals. The process usually takes two hours with three to four applications of 15 minutes each. The results can be quite spectacular in cases with superficial staining (ie. coffee and tea). This procedure almost always involves a set of take-home trays so you can finish up the process at home to achieve the shade that you want and maintain it. The cost of this package is typically $500.
When these options do not apply (i.e. tetracycline stained teeth or badly fluorosed enamel), usually porcelain veneers are the alternative.